Hyde Park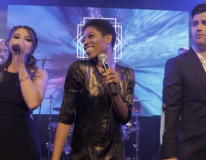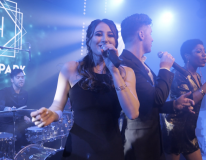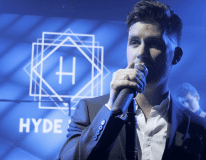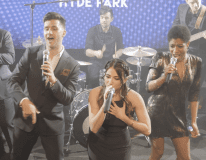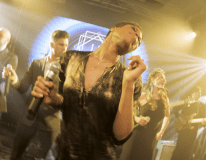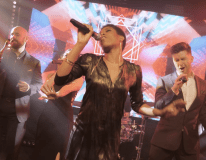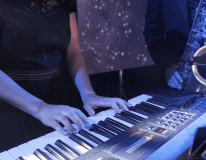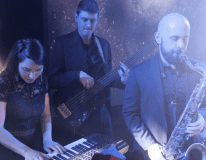 Versatility & Groove
Hyde Park is a wedding and event band offered at 9 or 10 pieces. They provide a range of live entertainment services, from intimate acoustic sessions to high energy, full-band performances. Their musical versatility is their greatest strength – they can quickly transition from an instrumental jazz cocktail hour to a large room dance party. The core band includes guitar, bass, keyboard, drums, and three vocalists (male & female), and horns. The vocal abilities of the Hyde Park singers allow the band to cover a wide range of genres from 50's pop and rock to today's hits.
By traveling with a full-time sound technician to perfect the levels, coupled with tasteful band lighting, Hyde Park delivers an interactive and energetic show to complete an epic event.
If you are between a DJ and a live band, why not combine the two and get the best of both worlds? EMG specializes in the Band/DJ combo option. Whether taking turns or playing together, Hyde Park and the DJ will create specific arrangements to seamlessly transition into each other's sets so that the dance floor never empties!
Hyde Park is a rare combination of youth and experience. Their talent, creativity, and showmanship provide all the right elements to turn a memorable day into the party people can't forget.
INFO
We will review all the details with you every step of the way! This includes the playlist, learning specialty songs, and any other details of the night.
READY FOR MORE?
Register to come see Hyde Park at their next live experience showcase.
"I'll start by saying one of our guests came up to us at the end of the wedding and said 'your band deserves a Grammy'!"

Lauren | Wedding, Park Chateau | East Brunswick, NJ

"The energy and talent of the band is indescribable and they had our guests on our feet the entire night"

Josh | Wedding, Ryland Inn | Whithouse Station, NJ

" They are incredibly entertaining performers. They were so engaged with us and our guests throughout the night"

Allison | Corporate, NYC