The Savoy Stompers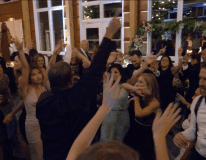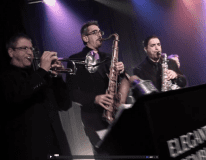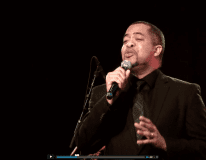 The Savoy Stompers band is a REAL BAND with regular members that will perform at your event. We will ROCK your dance floor with non-stop high energy fun… the dance floor will be packed all night long. And we're here to assist you in every step of the planning of your special day.  Click here for SHOWCASES
The band is available from 8 to 12 talented performers. Our standard configuration is 10 performers (including six performers that sing Lead Vocals, which provides great harmonies and a range of authentic styles): Two Male Lead Singers, Two Female Lead Singers, Guitar (w/Male Lead Vocals), Bass (w/Male Lead Vocals), Keyboards, Drums, Tenor Sax (w/Flute), and Trumpet. We are capable of songs sung in Spanish, Italian, and Hebrew languages. Additionally we can add a Percussionist and/or DJ at your request.
We include music for Cocktail Hour, with options to add additional band members and/or supplemental musicians (we have Harpists, String Ensembles and other combinations available) for Ceremony and Cocktail Music. Band members that often perform for Ceremony/Cocktails include Keyboardist, Flute/Sax and Violin/Bass, and Guitar.
Continuous Music
Included in our package is continuous music. This means live music all night – dance music at all times except when one or two musicians perform while courses are on the table. The Savoy Stompers includes a state of the art PA System and full time Sound Technician, so you know that the volume, balance, and tone of the sound will always deliver a first class experience.
Option of Band/DJ combo
The Savoy Stompers performs music of all eras, including the songs on the radio right now. However some couples prefer the effect of a Band/DJ Combo. We will divide the time any way that works for you (50/50, 60/40, 70/30, etc!) Bandstand Uplighting is also included. We offer options of room uplighting, Intelligent Lighting, Photo Booth, and other enhancements, all at reduced rates when booking the band.
Interactive
All of our lead singers have wireless mics and can get out there on the dance floor to interact if you like (or we stay on the bandstand if you don't!).
Planning
Your bandleader will review all the details with you every step of the way! We will work with you to personalize the mix of music, special songs, and details of your celebration. We're happy to learn your special songs, such as First Dance, Parent's Dances, Cake Cutting Song, etc). We include a planning session approximately 2 months before the wedding, as well as touching base all the way up to the week of the wedding. To make this easy for you, we're here for you every single day.
MC
We will do all the announcements, coordinate with your Banquet Manager, and take care of everything else so the day of the wedding you can simply show up and have a great time!
The Savoy Stompers offer a private monthly LIVE SHOWCASE, so you can see it's a real band, enjoy the positive energy, talent, and "vibe" of the band members, and even ask for requests!
"This band was amazing!!! They kept the party going and they are excellent at reading the room to determine the next song."

Jordan | Wedding, Maplewood Country Club | Basking Ridge, NJ

"They will create your dream wedding and your guests will have the best time!!"

Becky | Wedding, View on the Hudson | Piermont, NY