November 08, 2020
EMG's Guide To Atmospheric Wedding Enhancements
Atmospheric effects bring an extra WOW factor to your reception.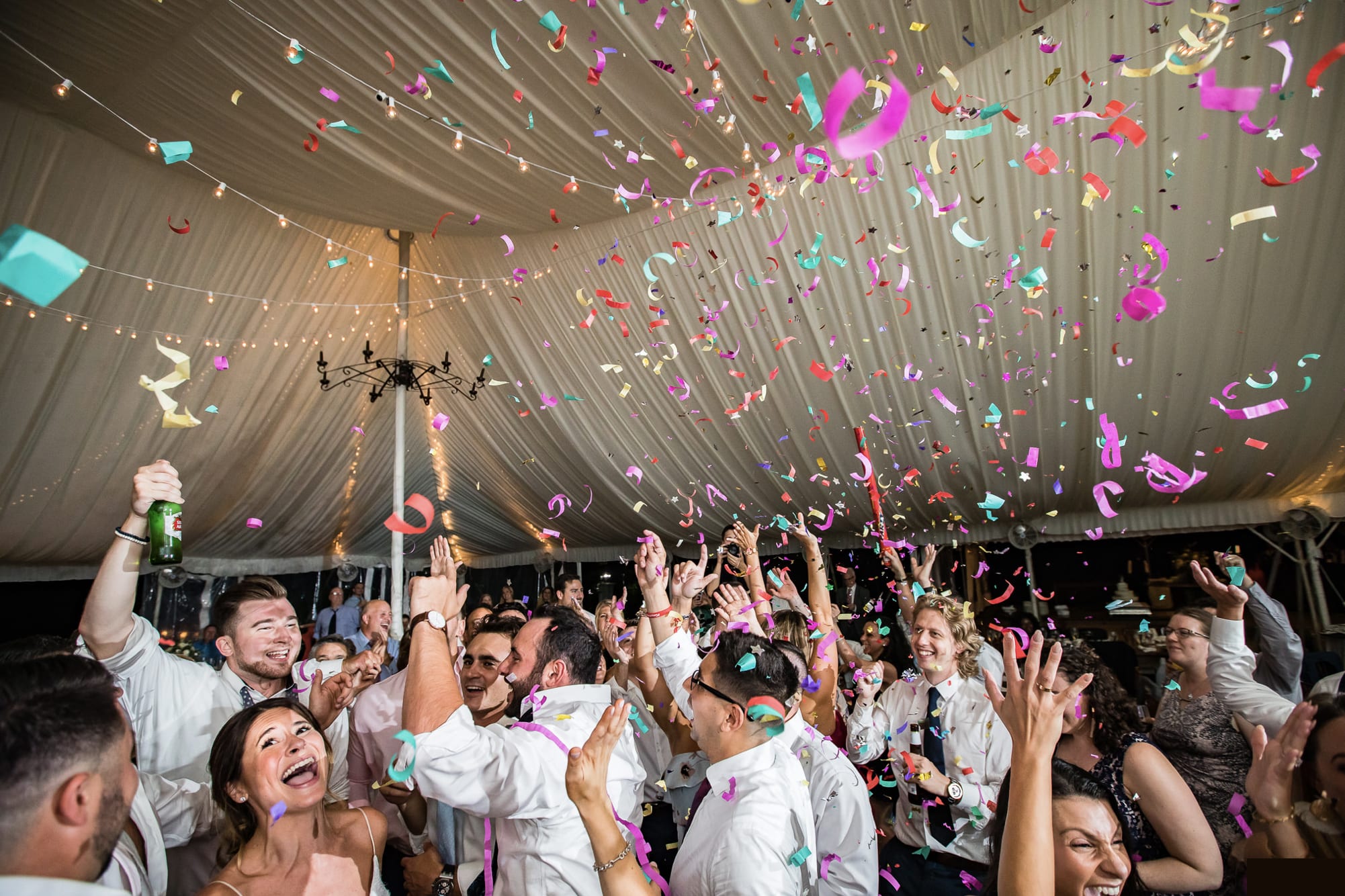 Are you looking to create that picture-perfect moment during your first dance or another time throughout your special day? We don't blame you! We can help create the atmosphere of your dreams with any of our wedding enhancements. We offer four unique add-ons different from the traditional enhancements of photo booths, sounds, and talents. The purpose of these atmospheric effects is exactly what it sounds like: to add an effect to your wedding atmosphere. There are so many ways atmospheric effects can help bring an extra WOW factor to your reception, whether with Sparkler Fountains, Dancing on Clouds, Co2, and/or Confetti Blasts. Let's dive into these in detail so you can find out which one will fit perfectly into your wedding day.
Indoor Sparkler Fountains
Designed to be used indoors, our Sparkler Fountains are sure to light up any party…literally. Offered in units of four, sparklers can be the perfect addition to any monumental moment throughout the night. Want to make a grand entrance, have a photographed dip during your first dance, and/or cut your wedding cake in style? You can't go wrong by adding a little sparkle to any of these moments – they look awesome in photos and can be tastefully utilized throughout the reception. We like to refer to them as 'cold' sparkler effects because there is no fire involved, and they are 100% safe.
Dancing on Clouds
Let's get scientific for a second: do you know what happens when you slowly lower dry ice into a machine filled with boiling hot water? Not fog, not mist, but beautiful clouds. Our Dancing on Clouds effect creates a magical atmosphere that will complement your first dance and surprise your guests. We recommend that couples who book this effect do a full-length first dance song, this way, the photographer can get photos without the clouds at the start and then with the clouds as they enter mid-song. This visual pop will be sure to give a timeless look to all your first dance photos. Plus, the clouds rise to knee length and are an excellent way to hide your feet if you don't consider yourself much of a dancer!
Co2
You can't go wrong with adding a little Co2 to the party, available as stationary canisters or mobile handheld guns. This is a great effect to include during grand entrances and introductions and throughout the night during high-paced dance sets. It pairs excellently with fun reception music. The stationary options are usually mounted to the ground and shoot upward but could also mount to walls or columns, allowing them o shoot across and above the dance floor. The setup depends on the layout of the reception room. The mobile Co2 gun, on the other hand, allows for the Guests of Honor to be mobile, as they have fun with it. The gun comes with a backpack, so feel free to roam as you blast off a little Co2.
Confetti Blast
The best way to end your party with a bang is to go out with a Confetti Blast. Just like Times Square on New Year's Eve, our confetti blasts can be a fun way to send off to your guests or punctuate a moment. Your confetti color is customizable and can be hand-picked by you and your fiancé to match your color scheme or wedding theme. We recommend saving your 2-3 confetti blasts for the end of the night, because the cleanup is precisely like Times Square on New Year's Day.
Contact us today and ask us about the atmospheric effects you have your eye on. We can do it all!