August 05, 2020
Making the Most of Socially Distanced Weddings
Check out how EMG is navigating socially distanced weddings while making the most out of the experience during COVID-19.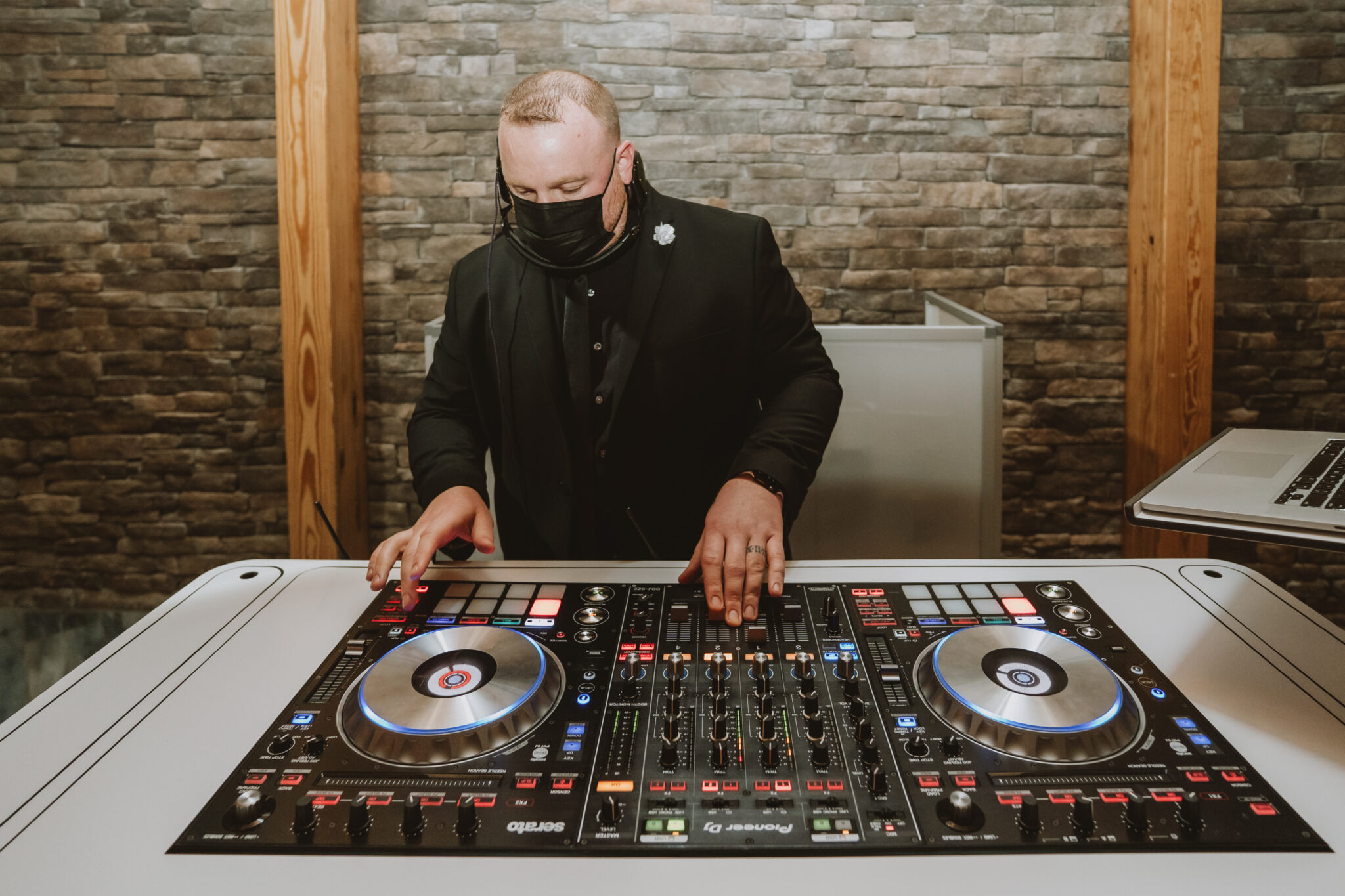 In a Summer of socially distanced gatherings and outdoor dining, there is nothing left to do except embrace the new normal and adjust routines. Slowly but surely, life seems to be returning to some level of normalcy. More and more planning couples have decided to throw socially distanced weddings, rather than postpone another year or two. Though some people frown at the phrase 'socially distanced weddings,' EMG is here to break the stigma and sweep away any negative connotations from your head. We believe that celebrating a significant milestone during these trying times can be a lot of fun, and is not that hard to execute. We embrace these unprecedented times and have come up with some creative tips that planning couples can keep in mind to stay safe while still having a great time.
Keep Everyone Informed
Your day will ultimately run smoother if everyone is on the same page. This includes all of your vendors, the staff at the venue, and your guests. To follow social distance guidelines, try staggering your vendors throughout the day. For example, talk to your venue to see if your florist can come and set up a few hours earlier so that they are not in contact with other vendors who can come later. Another suggestion is to keep your party entertainers informed by saying something such as, "Hey, we are not going to allow music requests in order to make sure our guests maintain a safe six feet from you during the reception." Maybe you are planning to supply custom labeled bottles of hand sanitizer decorated with your wedding colors or a sticker of your names and date. Let your venue know this! Talk to your vendors and guests about the steps you're taking to keep them safe. This will, in turn, also make it easier for them to keep you safe. Not to mention, these conversations will minimize a level of anxiety for everyone, and make the celebration much more enjoyable.
Space Out Formalities To Maximize the Flow of Your Party
At a traditional NJ wedding, formalities such as speeches, dances, toasts, dinner, etc., are all front-loaded at the beginning of the reception. In this new environment, the opposite might be better: space them out. Some states and venues are not allowing dancing, and so if you decide to schedule all of your 'have-to' traditions at the beginning of your celebration, the last three hours may be awkward, leaving guests with nothing to do except sit at their tables. Staggering toasts or dances might be an excellent way to break up the timeline and give guests something to look forward to later in the night. Let the party breathe and flow naturally, rather than stacking all of the formalities right at the beginning.
Be Flexible with Decisions You Had Previously Locked In
We are in a 'things change by the day' kind of situation. Some days things are a little more lax, and other days things become a little more strict. It's essential to be flexible with the world around you. Another vastly important factor in this new normal is the weather. "Weather permitting" used to be the determiner for an indoor or outdoor ceremony, but now inclement weather could result in an entire date change altogether. Keep these things in mind for outdoor receptions and maybe also work out a rain date with your venue and vendors. The bottom line is: be realistic that things could change and be ready to roll with the punches. As stated by EMG Partner and Executive Event Host, Tom Gambuzza, "Be okay with altering the when and how of the reception if things don't go as planned. If you get there and have to pivot, it's okay. You're still getting married! The result will be the same."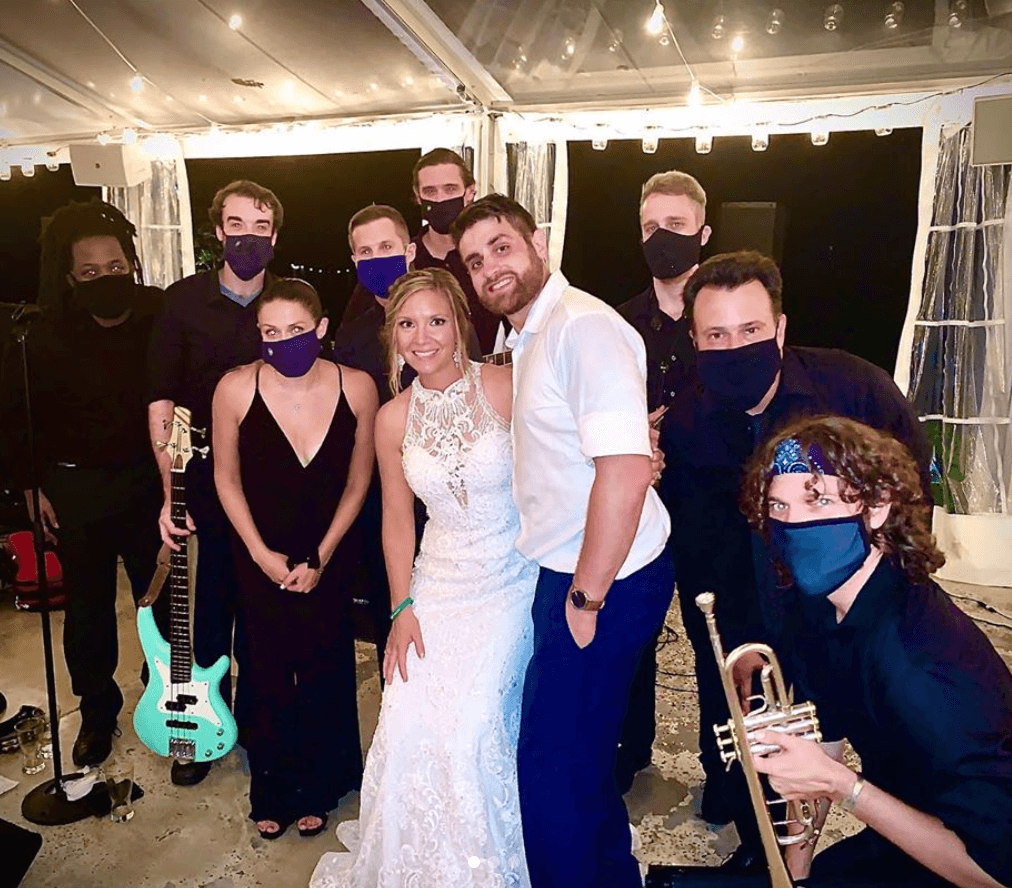 Hudson Heights and the happy couple showing off their custom monogrammed masks after a successful socially distanced wedding.
Keep State/Vendor Policies in Mind
EMG worked two weddings this past week: one of our live bands, Hudson Heights, played a wedding in Pennsylvania, and Tom DJ'd a wedding in New York. The ordinances and laws were different in both states, so that is something to keep in mind. You should know what those specific laws and state ordinances are and make them public throughout the reception. An easy way to do this is to ask your wedding entertainment to announce the party's policies and rules. Keep in mind that following the rules can also be an opportunity to incorporate a unique wedding favor or keepsake. For example, at the Hudson Heights' Pennsylvania wedding, the Bride and Groom got monogrammed masks for their guests to wear and keep, and even designed their hashtag around COVID. In fact, Wedding Wire recently published a detailed article about the perfect wedding masks for any and all members of your bridal party or guest list. There is a way to take a dire situation in life and put a playful spin on it while still abiding by the state and the venue's policies.
Have Alternative Options for Standards
Executive Event Host Matty Goshen shared that he recently had a couple that didn't want anyone standing in front and sharing microphones, so they pre-recorded virtual toasts. Little tweaks like this are simple, fun, and refreshing for everyone. Not to mention, for those with a fear public speaking, virtual toasts are a blessing in disguise that affords the opportunity of multiple takes and professional edits. Another suggestion is to get a dummy cake for cake cutting photos and display during the reception. This way, the real cake is not exposed outside, and no one is breathing on the cake that you and your guests will be eating. There are so many ways to incorporate fun alternatives for the usual wedding traditions, and the bottom line is you do not have to abandon traditions. You can make them your own.
There are opportunities to make socially distanced weddings fun, efficient, and safe. Move forward with comfort and go into these new types of celebrations with an open mind and flexibility, leaving room for changes.
Don't want to postpone your wedding any longer? Contact us today to secure safe wedding entertainment and event enhancements for your socially distanced wedding.