May 25, 2017
The Rent vs. Buy Debate
Unsure whether to rent or buy your suit/tux? This one arms you with everything you need to know to make your decision!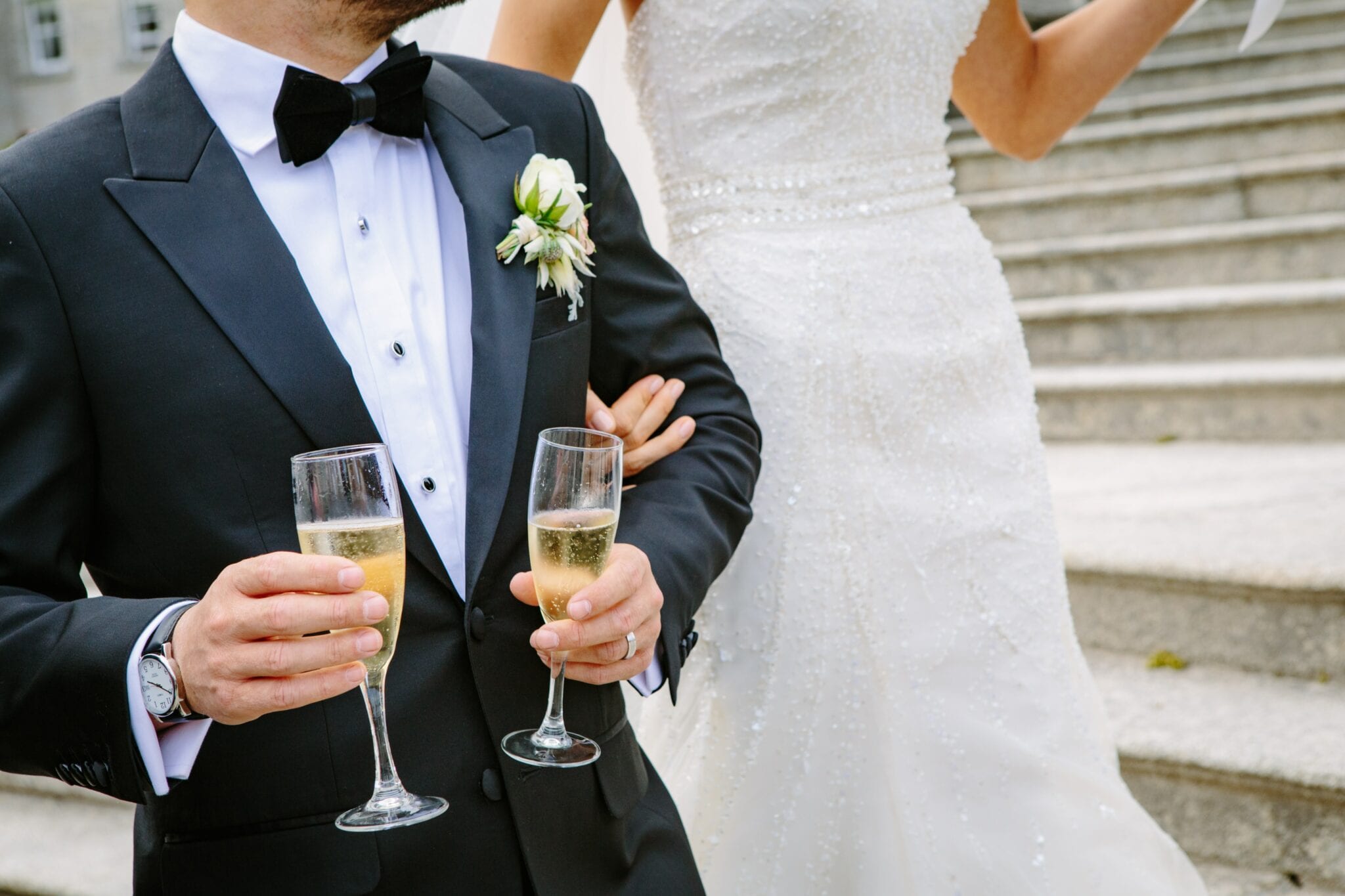 In honor of one of my best friend's wedding coming up next weekend, and my wife and I having just celebrated our 2 year wedding anniversary, I thought this would be the perfect topic to cover!
Here's a classic debate for any occasion, but especially when it comes to picking the right threads for the wedding day. Should you rent or buy the Tux/Suit? How about for your Groomsmen? If you do enough research, you'll find out that the answer really depends on you…and primarily what you have in store for the future. The straight up answer – there is no wrong answer. But let's look at some things to consider before making the call:
#1 – Budget. Simply put – as a one-time outlay of cash, renting is the more economical option hands down. The average price of a tux/suit rental usually comes in around $150-$185. But what do your future plans look like? We've seen some calculations out there that claim if you can get a second use out of it, it pays for itself. Between buying a suit off the rack with alterations, you won't come out paying too much more than the rental – and then you own it! Here's one thing you absolutely want to keep in mind: A suit is way more versatile than a tux, especially if you're going with a color other than black. The number of occasions that you can wear a tux may come fewer and further between so having this on your radar might help pinpoint your decision too!
#2 – Convenience. Sometimes it's just easier to get yourself and your groomsmen all on the same page by doing it one way or the other. For renting, pick a shop that's a middle point for everyone (if a smaller business), or a more national provider like Men's Wearhouse so your guys can make it to any location that's convenient to them. If you are going the rental route, make sure the shop has the cuts, styles, and colors you're looking for…you also might want to check that their inventory looks updated. You don't want your guys coming out looking like they're going to prom or the casting for the new Dumb & Dumber movie. These shops should have suits too, but you can always check out places like Macy's / other name brand department stores will be sure to have the same style/color of suit in the sizes you'll need. If you're looking to take it a notch up and go the custom route, call up the shop you want to work with and set a date for everyone to go get measured – make a day out of it!
#3 – Personal Significance. What does your wedding day fashion mean to you? Here's where you can decide to go all in for either renting or buying…or maybe you fall in between and do something like, say – custom for you (the groom) and rentals for the groomsmen? If you're into adding a sense of personal touch, but not quite committed to a custom suit/tux, I would maybe consider buying yourself a custom shirt or customizing some accessories like your cufflinks.
#4 – Fit / Alterations. This is something I always consider! Maybe all of your groomsmen are the prototypical mannequin body type and can rock anything off the rack…but let's face it – probably not. Whether you rent or buy, know that alterations can always be made which is great news, right? My personal opinion…yes and no. Yes, because if all you need is a basic hem here, or take a jacket sleeve up there – it can be done. I say no, because with rentals, they usually limit the types of alterations that you might want to do. I talk about this a bit further below!
So now that you're a pro a deciding whether to rent or buy, let's take a look at two very different scenarios…that both worked out very well:
My wedding: I'm sure as you guessed it based on the nature of these posts…I went the custom route for both my groomsmen and myself. We set a day at My.Suit in NYC for all 8 of us to get measured. They let us bring in beer and pizza and we all just made it one big hangout while each person had their turn getting measured. Here was the breakdown: I did a custom shawl lapel tuxedo, the two best men were in 3 piece suits, and the other groomsmen were in 2 piece suits. We all got to pick out the lining of our jackets, monograms, piping, and other personal accents to reflect our own styles. It was really cool experience in my opinion. Looking back on it now…definitely not the most economical option (sorry fellas!), but they were all into it and now have a custom black suit for future occasions!
My buddy's wedding (next week): He'll be in a custom tuxedo…we don't know all the details, but it's definitely gonna look very on point! For the Groomsmen, we'll be in rented tuxedos…but not in your most traditional sense. We didn't go the Men's Wearhouse route or anything like that. We're doing The Black Tux. Here's how it works: go to your local tailor and obtain a few measurements that the website asks for – inseam, arm length, chest size, etc. You plug those in to your account online and they help zero in on the jacket / pant size that will make the most sense for your body type. They let you know about the basic alterations you're allowed to make. So you get your tux in the mail in this slim line briefcase looking box, open it up, and try it on. So I did just that. Low and behold – pants were too long and the jacket was too big. Now no biggie on the pants, I'll get them shortened. But the jacket, which was the same size I normally buy off the rack, was way too big…definitely a result of the company only currently offering US cuts and not European. So here's what you do: Shoot them a note to the customer support email provided to you in the box, and let them know about your sizing issue. Based on what you tell them, they'll send you a new size. You keep all the garments that have been shipped to you and mail them back within 3 days after the wedding. Super easy! Long story short, I received my new sizes a few days later and the jacket is perfect! All I need to do is hem the pants and we're good to go. The only alteration I wish I could do is taper the leg opening…but nonetheless, I am very impressed with the quality of the fabric and overall experience!
You're now armed with all you need to know to make your decision. Hope this was helpful for you guys!