July 20, 2020
Incorporating Unconventional Wedding Music at Your Reception
Explore the various ways to incorporate unconventional music into your wedding day - from country and classic rock to heavy metal and ethnic music.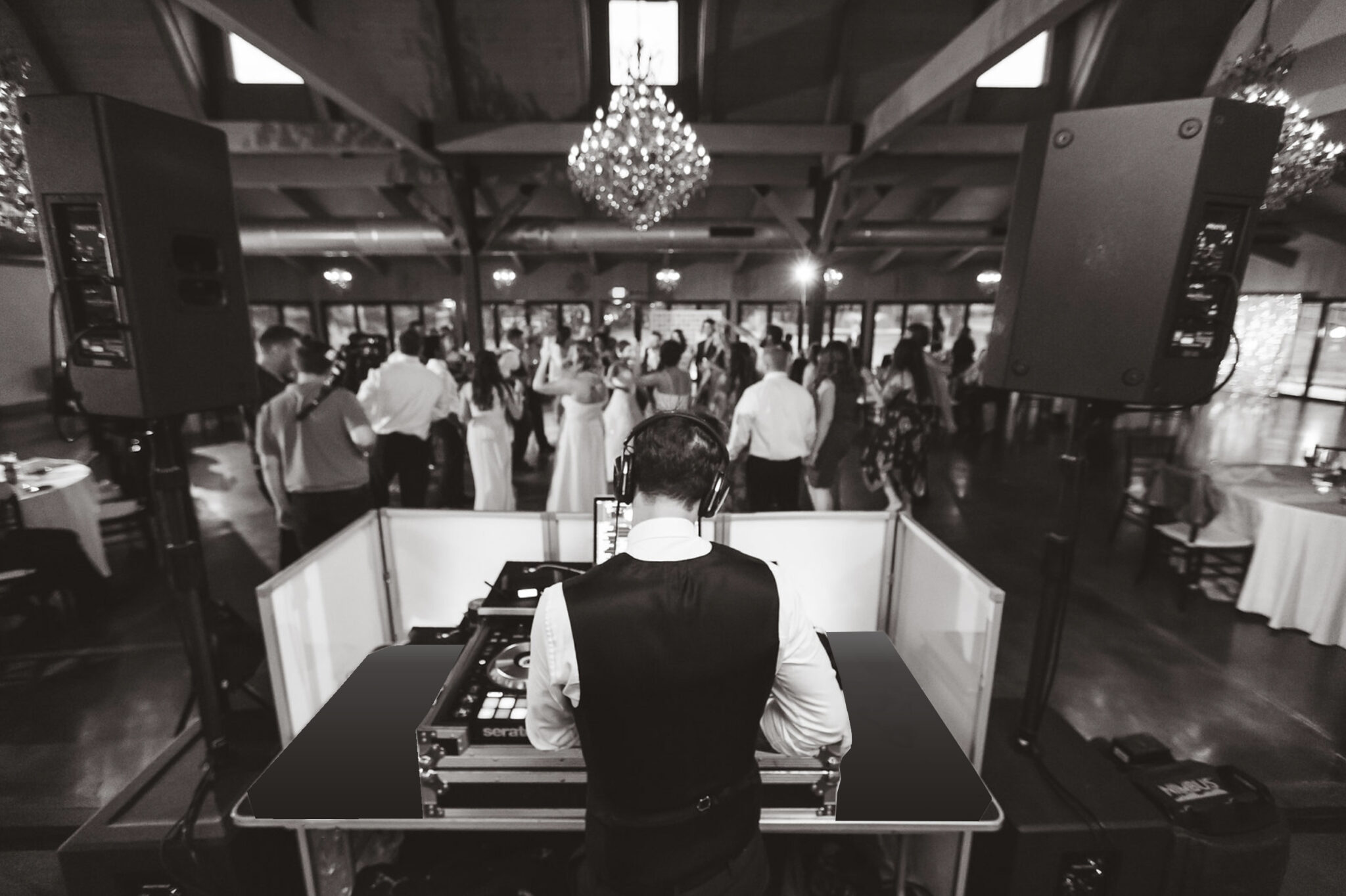 One of the most common questions we get from couples planning a wedding: How do we incorporate unconventional wedding music into our reception? In this sense, the term 'unconventional' can include a vast majority of music genres, ranging from country to heavy metal. The biggest thing we preach to our planning brides and grooms regarding this question is that your wedding should reflect you as a couple. With the right professional event hosts and wedding entertainment, anything is possible. At the end of the day, there is a time and place for every music genre at a wedding.
EMG Partner and Music Director Mike Carleo and Executive Event Host Bryan Festa provide tips on when, where, and how to incorporate your favorite music into your big day.
Country
"Dinner is always a great time to incorporate country music," begins Carleo. "Many country songs are beautiful ballads, from artists such as Kenny Chesney, Zac Brown Band, Dan + Shay, and these ballads work best at dinner." However, there are also subcategories of country music. Contemporary country music today is essentially dance music, so these songs can work either at cocktail hour or even right after dinner to get people to transition into party mode. "Take a song like Wagon Wheel, for instance. Do you sing to it? Dance to it? Is it just a background song?" Festa adds, "No matter the answer; you really can't fail with this song, especially to wrap up dinner. If people start dancing, great! Then you're into set two."
Classic Rock
Sing along songs from Bon Jovi or the Rolling Stones usually fit best at the end of the night. "There are many classic rock sing alongs that are very heavily dependent on alcohol consumption," laughs Festa, "So it just helps to play them towards the end of the night for the best crowd response." Our number one goal at a wedding is to get people up to dance. We don't want guests to feel like they're at a concert or a bar, just standing around with a drink and watching a live band. Most, if not all, wedding musicians strive for the opposite: the vibe should be a dancing party, especially with a live band. Cueing up classic rock hits towards the end of the night allows everyone to get moving on the floor, and ultimately gets the most out of these songs.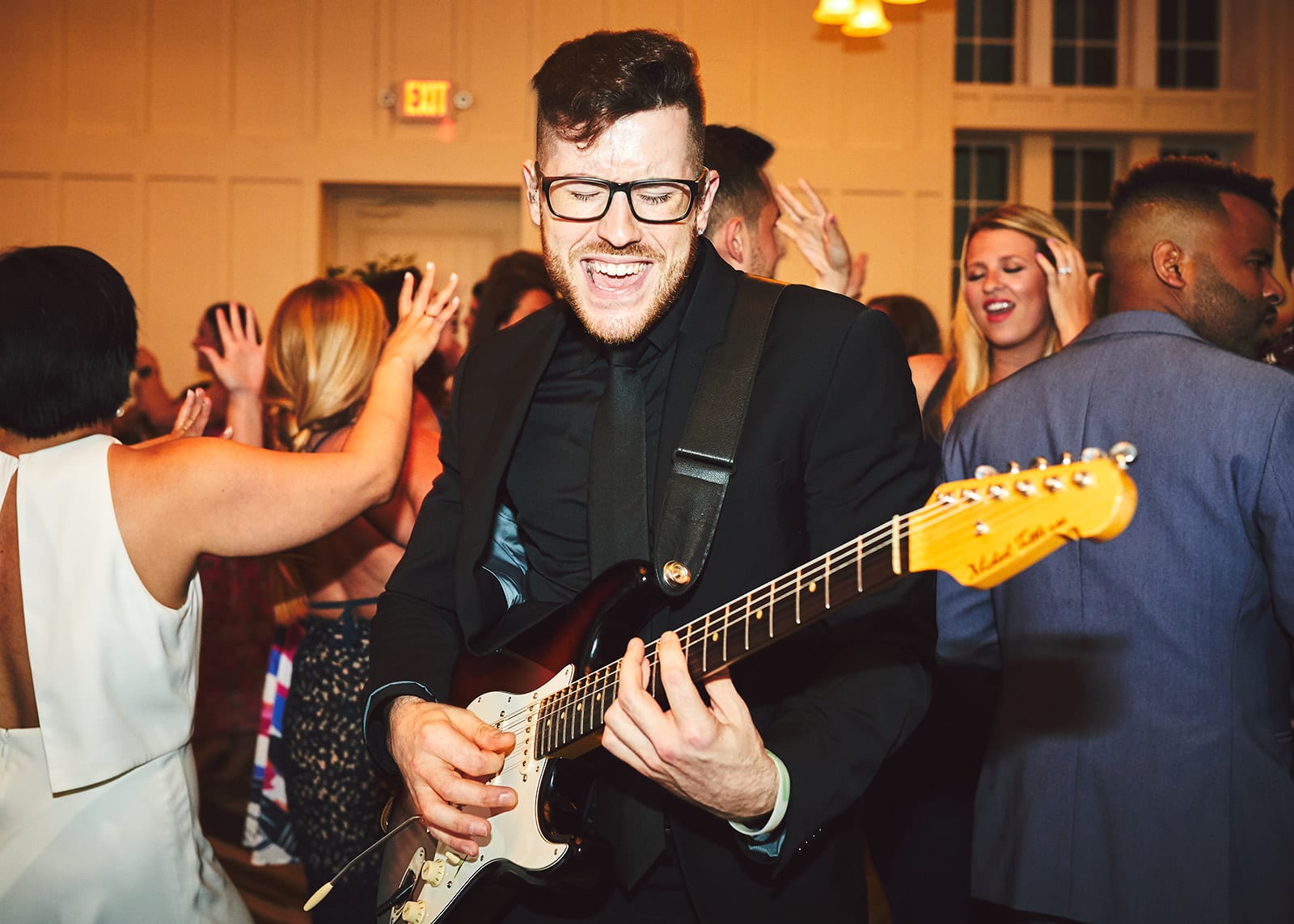 As EMG Music Director and CityScape guitarist, Mike Carleo prioritizes rock music later in the night.
Alternative Rock
Alternative rock is a whole different animal. Artists like Blink-182, Green Day, and Fall Out Boy, typically work best when grouped, instead of sporadically dropping them throughout the night. Parents and older guests are most likely not going to dance to these tunes, and so scattering them throughout the night makes it harder to maintain a consistent dance floor. "As a wedding DJ, I like to group these songs with Teen Pop bops like Britney Spears, Backstreet Boys, etc., because it's the same crowd- that 90s feel," Festa explains, "Definitely don't play these in the first set- always after dinner and honestly, just wherever it feels natural." It's all about reading the room and the dance floor. If you blend them right, you can put them anywhere. Some songs can be played at certain times, and others can't. At a wedding, you want to maintain a consistent vibe and flow throughout the night.
Punk Rock
"With 2000s punk music, I like to soften and build up to these songs," begins Festa, "If you give me a song to play, I know what to play to work up to that request in a way that sounds natural. You don't just slam it on because it's a good track." You don't invest in DJ services to simply have that person shuffle a playlist. You invest in their ability to mix tunes and professionally read the room to know where and how to place songs throughout the night. If punk is a priority, be sure to let your event host know, and let them guide you on how best to incorporate it.
Heavy Metal
There is a right place for every song at a wedding, but heavy metal can be tricky. Intros and bridal party walk-ins are the best places for these songs. Heavy metal songs are usually neither dance music nor sing alongs. However, using this genre can be a really exciting and fun way to kick off the night because of their fast tempos.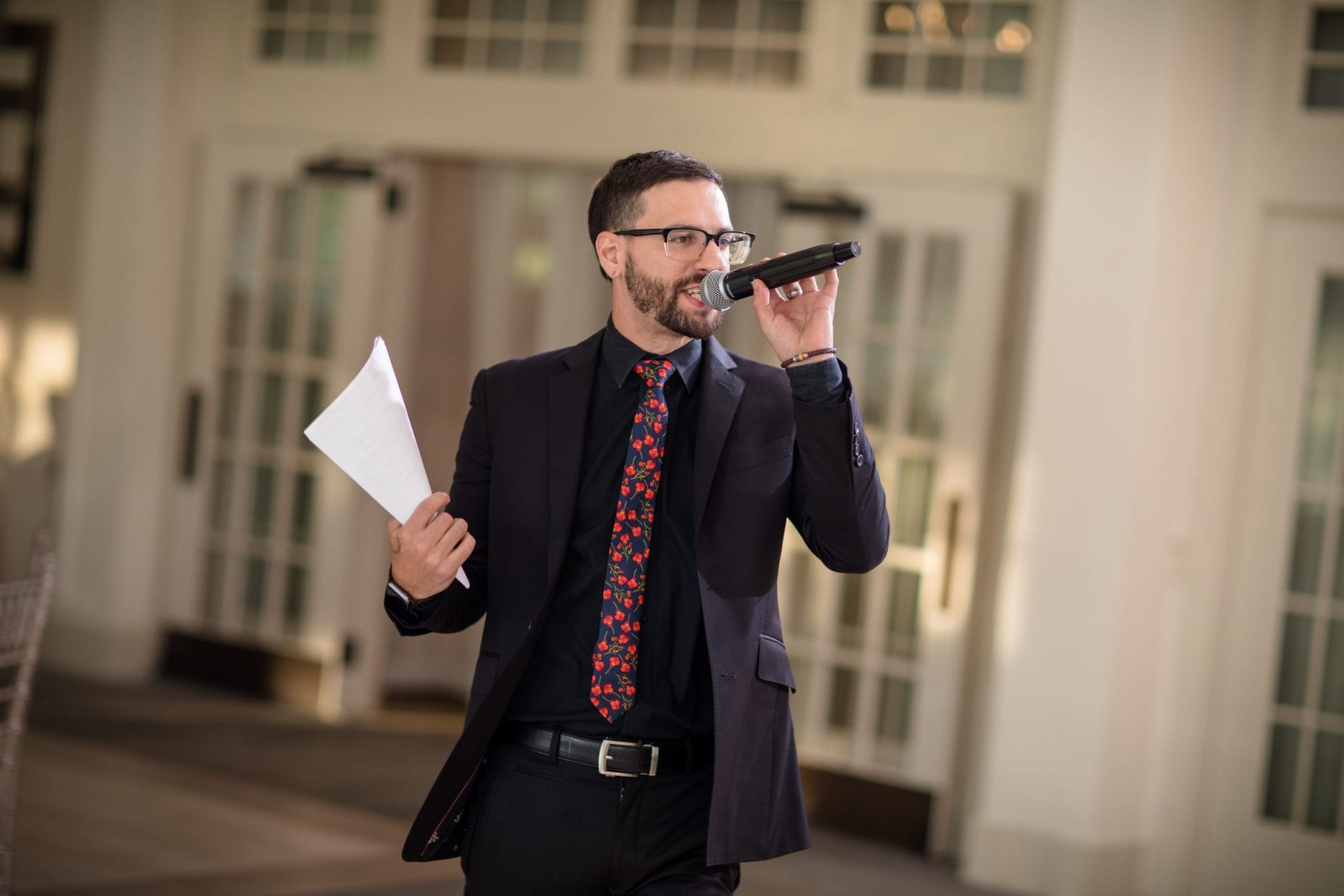 Intros are a great opportunity to incorporate heavy metal music while your event Host introduces the bridal party.
Ethnic Music
Let's move away from genres and chat about specific cultural music: Spanish, Latin, Indian, Turkish, Arabic, Italian, Jewish- whatever it may be. There is always time to incorporate these songs into your reception music, and this could actually be a lot of fun for guests not familiar with it. To reiterate one of our top beliefs: your wedding should reflect you! If Latin music is close to your heart and life, definitely include it at some point during your reception. These songs are best played when people are already up and dancing because if one person doesn't know it, but everyone else is jamming to it, the odd man out is more likely to stay on the floor. Carleo points out, "For my wedding, I had our Latin band El Ritmo play the last hour, and it was so much fun." Most cultural music is very fast-paced and easy to dance to, so as long as it's placed correctly, you really can't go wrong.
Including unconventional wedding music into your reception can be so easy and enjoyable. Leave it up to your Event Hosts and wedding musicians to place these songs throughout the night in a way that they flow organically. Always remember: this is your wedding, so do whatever you want! When creating your song request list, don't hold back just because you think a particular genre drifts from 'traditional' wedding music. If playing a certain song or type of music is important to you, it's important to us.
Ready to book music services for your special day? Contact us for more information so we can help give you the wedding of your dreams!