August 18, 2020
Smile! EMG's Guide to Wedding Photo Booths
To help make an informed decision based on your specific wedding needs, we've organized this short guide explaining the perks and benefits of each EMG photo booth.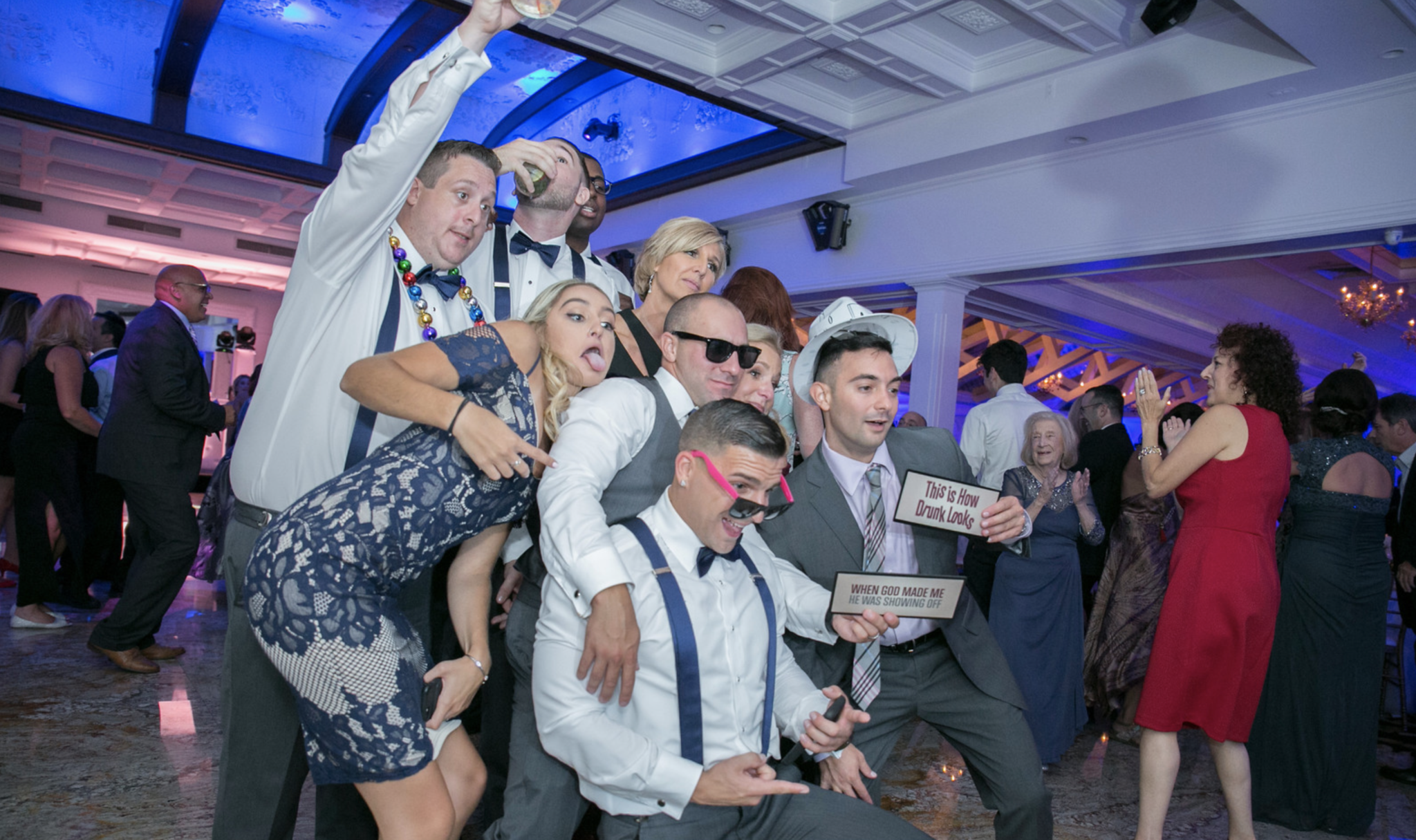 Adding a photo booth to your wedding or party can be a great addition, giving both you and your guests an added entertainment experience. Whether that means creating a boomerang with friends or taking a custom printout home as a party favor, there is a photo booth to suit everyone's needs. With so many great options and offerings, choosing a wedding photo booth may be difficult. To help make an informed decision based on your specific wedding needs, we've organized this short guide explaining the perks and benefits of each EMG photo booth.
First and foremost, some context: every EMG option is an open-air style photo booth, which means anyone wishing to use the booth can do so by standing in the open air. There is no physical structure to step into or curtain that guests need to drawback. Our photo booths are all podium style and can accommodate 1 to 15 people in the frame, which is always more fun.
The Social Station
The Social Station is our most popular and affordable wedding photo booth option. Its appeal is due to its ease of use, interactive, and equipped for instant sharing. With filters similar to Snapchat (i.e. dog ears, mustaches, etc.) all props are digital and accessible on a user-friendly platform. This booth does not come with an attendant or physical props, allowing guests to choose an experience on their own. And this booth offers two: a single photo or a boomerang. After the photo is taken, The Social Station will prompt guests to enter their cell phone number or email address for an instant digital delivery formatted and ready to post on any social media platform. With this booth, the Bride and Groom can create custom screens with overlays, filters, etc., that everyone can enjoy throughout the night, helping to personalize your event. Everyone who takes a photo will also receive a link to the digital gallery of pictures taken throughout the night. After the event, we will download and send all of the photos to the newlyweds that they can keep as digital files or use to make printouts. This open-air booth has a built-in ring light that makes everyone look good, and is available in both black and white, giving it the ability to coordinate with the decor of any room.
Open-Air Photo Station
This podium style experience is similar to the Social Station, both having a ring-light and being iPad-based. However, the difference between the two is that the Photo Station is more of a traditional photo booth, with physical props, 2×6 photo strip print outs, and an attendant who will be putting together a scrapbook with all the photos taken and helping your guests. The Bride and Groom will receive the scrapbook at the end of the night and will be sent a link to the digital album within two weeks. Unlike traditional photo booths, our open-air photo station does not limit guests to 2 printouts per photo, but instead, allows for unlimited printouts. That means if there are ten people in the photo, everyone can take one home! We include a standard backdrop with a variety of designs to choose from, ranging from sequined to rustic and even have some greenery options. However, if you want something more custom, we can do that too with our custom design step and repeats. These high-quality photos are taken with an enhanced DSLR camera making it the ultimate event enhancement.
The Celebrity! Photo Booth
Vogue, strike a pose. This all-black and white 4×6 print-out booth earns its name by using a beautifying filter to make sure everyone's skin looks flawless, and magazine cover ready. Fully attended throughout the evening, this glam booth comes with a taught white backdrop that provides the perfect background for dynamic lighting. Don't just take a picture, be the picture.
Mirror Air Photo Booth
Like The Photo Station, our Mirror Air Booth comes with a photo booth attendant, physical props, and unlimited customized printouts. The Mirror Air is a statement piece. It looks exactly like a full-sized mirror and comes with interactive perks. When taking photos, guests can customize their strip by adding emojis, signatures, etc., before it prints out. The Mirror Air does not typically come with a backdrop as it is usually backed into a corner so that the beautiful venue it's housed in fills the background.
The Phone Booth
Our newest booth is a London phone booth inspired photo booth, and it is precisely what you are picturing: a big, old-fashioned, 1940s, red phone booth. This statement booth can work as both an open or closed-air booth. While a guest or two can fit inside of the booth for a photo, guests can also draw back the booth's sliding door and stand outside of it to fit more friends into the photo. It operates exactly as the Social Station with digital props and instant sharing abilities. The Phone Booth was designed to be a significant statement piece that guests can utilize to take pictures in and around. You should consider this option if you want to provide guests with a unique dual experience. Due to its size, this option is only available for placement on a ground level.
As you can see, there is a wedding photo booth for everyone with so many versatile and fun options! One last thing you should consider when deciding on event enhancements is placement. We recommend having the photo booth in the same room as your reception. Doing so will ensure that the party festivities are centrally located and help keep your guests engaged throughout the night!
Think you've found a wedding photo booth perfect for your special day? Contact us today to book this event enhancement.